2 December 2015
Walls and the Tiger has received the Amnesty International Award for best film about human rights at the seventh "Tutti nello stesso piatto" Film Festival in Trento, Italy. The award ceremony took place in Trento on 26 November.

The Amnesty International Jury said it chose Walls and the Tiger (www.wallsandthetiger.com) "because it deals with the pressing subject of area development choices made without consulting those who are concerned. The documentary gives an excellent example of environmental democracy and shows the need to plan territorial development while actively and genuinely listening to all the involved parties. It highlights the farmers' ability to self-organize in order to maintain their rights. The documentary shows that it is possible to make a stand against decisions protecting private interests that damage fundamental rights; and that, if united, the fight can be won."
In the Amnesty International Jury were: Beatrice De Blasi, festival artistic director; Maria Rosa Mura, founder of the Association 'Gioco degli Specchi. Migranti Cultura Società'; Alessandra Ballerini, human rights and immigration lawyer; Marco Pertile, International Law professor at the Università di Trento and Graduate Institute di Ginevra; Federica Maggiolini, vice-president AIESEC Italia; Giacomo Bertollo, student and AIESEC Italia member; Maria Cadonna, biologist and Amnesty International activist in Trento; Alberto Lavelli, FBK researcher and Amnesty International activist in Trento; and Riccardo Noury, Amnesty International Italia spokesperson.
++++++++++++++++++++++++++++++++++++++++++++++++++++++++++++++++
After several years of planning, filming, and editing Walls and the Tiger, we've begun to present it at a variety of venues. In addition to showing it to friends and colleagues in the US, India, and Australia, we've had public presentations in various European cities at some important venues and events.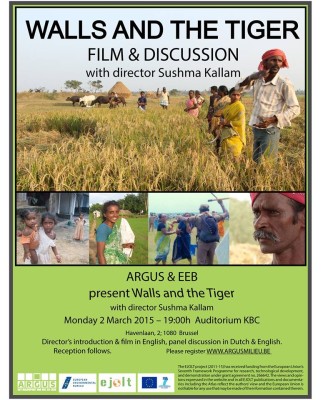 In March, Walls and the Tiger was featured at a convention of the European Environmental Bureau, one of the union's largest such organizations.
The EEB's Nick Meynen gave the film a heartening plug: "Walls and the Tiger doesn't just tell one of the (too) many epic stories of resistance. Director Sushma Kallam gets under the skin of the main characters and beams the audience to the colorful world that is rural India. By bringing a European audience to tears for the fate of a small Indian farming community, she does more than connecting the dots in our mind. She connects our hearts."
In April, Walls and the Tiger was the feature presentation at Ciné-ONU, an always well-attended showcase of documentary films that bear on UN themes. Launched in 2007, it is run by the UN's Regional Information Center (UNRIC), in Brussels, Belgium.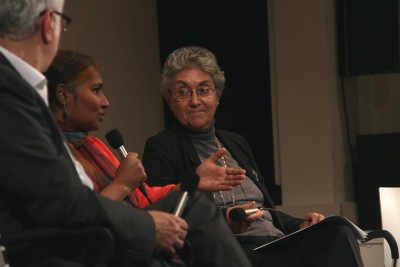 The screening was at the Goethe Institute. Before it, Sushma read for the audience this letter from activists in the communities that the film depicts: "We request all of your support in helping us defend our land and our environment in order to provide fresh air and fresh water to our future generations. Without that, any amount of development is meaningless."
Earlier this week, 2 June 2015, the documentary film was very well received by a packed house in Helsinki, Finland, at the Andorra theatre. Our host for that evening was United Nations Nordic. We were particularly proud to tell the story of Indian farmers' struggles at that cinema, as it was founded by legendary Finnish filmmakers Aki and Mika Kaurismäki.

And we heard at that presentation that a screening of Walls and the Tiger may soon take place at the UN-NYC — we'll keep you posted, on that.
Later today, 4 June 20, a presentation is scheduled for Lisbon. Ciné-ONU will screen the film at Cinema São Jorge. Ciné-ONU hasn't screened films in Portugal in a while, but based on the response Walls and the Tiger got in Brussels, it is reintroducing screenings with Muros e o Tigre. Sushma and Liam are there, as they were in Helsinki, introducing the film and responding to the many questions that audience members have, including: How can other bookers have Sushma and Liam come to their city, and present Walls and the Tiger, there?
The answer to that is simple: It can happen if we can raise a little money, to do that.
Meanwhile, please do contribute, if you can – if not financially, then we're always very grateful to receive leads, tips, and suggestions, too.
++++++++++++++++++++++++++++++++++++++++++++++++++++++++++++++++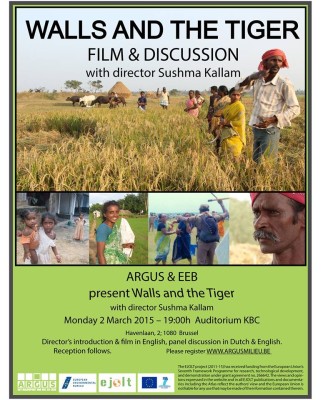 We are honored to have presented Walls and the Tiger at the European Environmental Bureau's EJOLT conference on Environmental Justice, 2-3 March 2015. Walls and the Tiger was shown as a featured evening event, with a debate following, as part of events marking the completion of a four-year EEB project involving 100 people in 30 countries: the international project on Environmental Justice Organisations, Liabilities and Trade (EJOLT which has mapped and documented hot spots of environmental damage of many kinds, and addressed legal avenues for communities seeking environmental justice.
At the event, participants and policy experts considered how and where the knowledge from EJOLT can be used.