OUR ASSOCIATE PRODUCER: Maria Gargiulo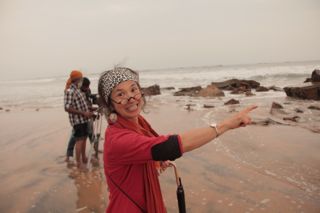 Maria is an Emmy Award-winning producer and director. She is a media switch-hitter, as likely to direct a drama as a documentary. Her one-hour television pilot, The Collectors, was named Best Drama at LA's ITVFest. Garments for One Another, a documentary on Islam and domestic violence, took her into Muslim homes and mosques.
Her other credits include:
The Year of My Japanese Cousin, a post-punk comedy;
Got 2 Come Up, a drama dealing with gang violence;
The Meaning of Food, a PBS mini-series on America's multiethnic cuisine;
America's Most Wanted, a prime-time staple.
Her producing has taken her to Japan, Korea, China, Sweden, and India. An MFA graduate of Stanford University and the American Film Institute, she was the first recipient of the Nichol Screenwriting Fellowship. She teaches film and video at the University of Washington's Professional and Continuing Education Program.